free ebook
Crush Your Next B2B Email Audit
Email is Deceptively Easy
You know email marketing is deceptively easy. With multiple factors affecting success, email marketing can seem just as complex and convoluted as SEO.
What with strategy, list health, design, rendering, deliverability, accessibility, mobile, and UX, all the moving parts are enough to drive email marketers up a wall.
You can hire me to conduct a comprehensive audit. Or, you can have the second best thing – the questions I use to as a foundation for every audit I conduct
This ebook, 25 Questions to Ask During Your B2B Email Audit, walks you through the questions you want to ask so that you ensure to get email marketing's foundational elements right.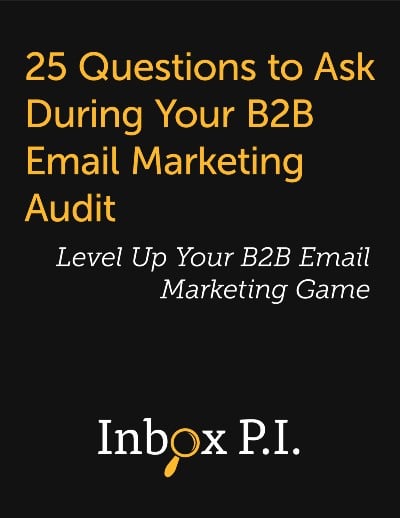 A Successful Email Marketing Program
Email marketing has many moving parts – all of them work together to create a high-performing marketing channel.
Much like the proverbial weak link in a chain, if one of those areas is weak, your program will fail to achieve the highest results.
Maybe you need to overhaul all of your email marketing, maybe just one area is weak.
This ebook will guide you to ask relevant questions for each of seven areas: strategy, metrics, list health & segmentation, design & rendering, and campaign performance.
03
Are You Winning at Email?
07
Template Design & Rendering
Jeannette provides user research, insight, and auditing services important for making data-informed decisions to drive effective email marketing campaigns. I've learned so much from her on how to improve testing for better deployments.
This ebook is a great way to start the process on auditing your email marketing. It introduces you to the fundamentals of email marketing and helps you improve your email programs with insightful questions and helpful tips.
If you had the chops and free time to write your own B2B conversion copy, Jeannette's 25 B2B Email Audit Questions would be all you'd need to DIY your audit and email marketing strategy. It's an easy but robust read.